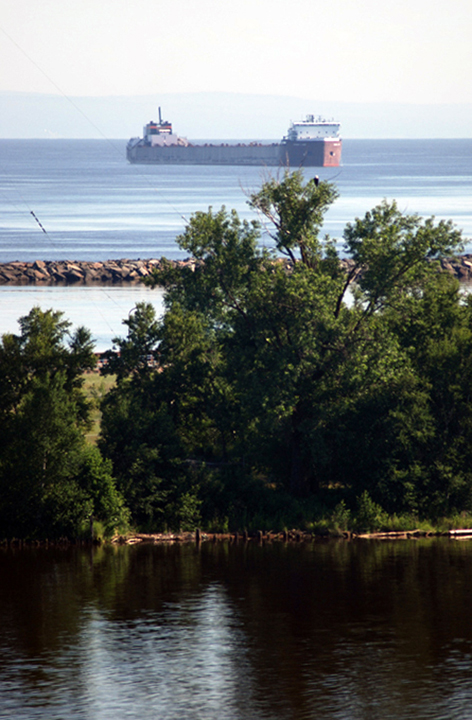 A Bald Eagle watches over the waters of Allouez Bay while the
Stewart J. Cort
sits at anchor waiting to load pellets for ArcelorMittal at Burns Harbor, Indiana.
Superior, July 8, 2012, Image 12-1181
The
Indiana Harbor
backs away from the BN-SF dock, exposing the corner of the triangular
shaped penisula that is the ancestor of the once mighty Great Northern dock complex.
Superior, July 8, 2012, Image 12-1200
After clearing the dock begins its swing to port, its bow facing the shallow waters of Allouez Bay,
a mecca for migratory birds located on the sheltered side of Wisconsin Point.
Superior, July 7, 2012, Image 12-1223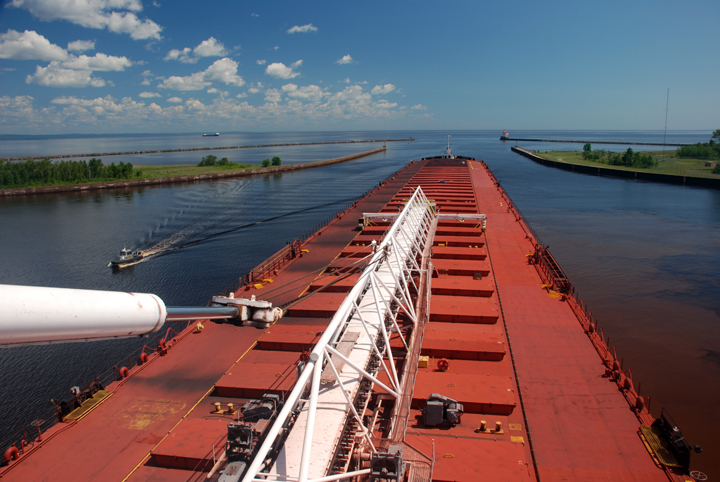 The Superior entry is the natural mouth of the largest tributary on Lake Superior, the St. Louis River.
The distance between the north and south piers is 500 feet. Initial development of the Superior harbor fel
under the United States River and Harbor Act of March 2, 1867. The south pier was built in 1903 and 1904,
and the north pier was built in 1907-1909. The two converging rotective pbreakwalls were completed in 1914.
The Superior south pier was faced with sheetpiling within the past five years.
Superior, July 8, 2012, Image 12-1240
Aside from the Superior lighthouse, the only structures on Wisconsin Point are these old buildings
maitained by the U.S. Naval Reserve. The property is off limits to the public.
Superior, July 8, 2012, Image 12-1091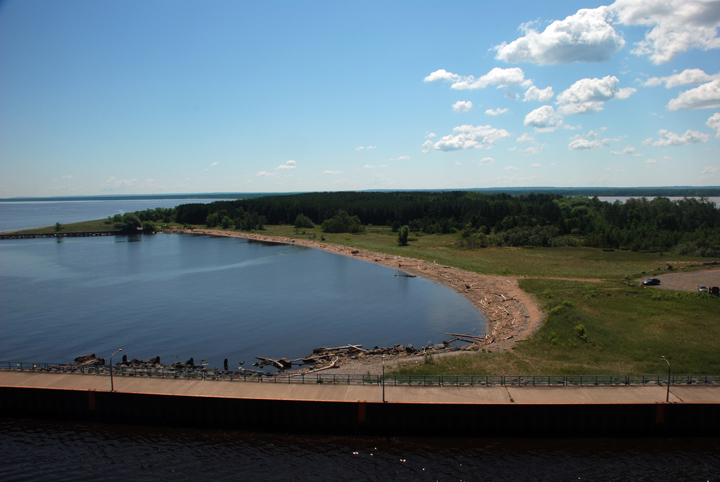 The graceful arc of a small bay that has developed between the south pier and the breakwall of the Superior lighthouse.
Over 1,500 feet in length, the south pier is a poupular local spot for Northern fishing.
Superior, July 8, 2012, Image 12-1249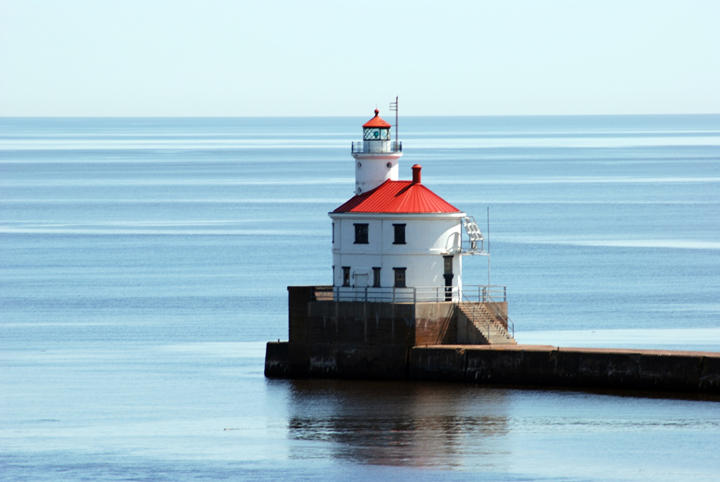 The Superior South Breakwater light, known as the Wisconsin Point light, was constructed in 1913.
Superior, July 8, 2012, Image 12-1247
The light tower, reaching a height of 42 feet, is located at the northeast corner of the
rectangular fog signal building. When I was a kid the remains of an old wooden walkway
connected the lighthouse to the Point and the lighthouse was barricaded with fencing and barbed wire.
For the adventurous, hopscotching from boulder to boulder to reach the concrete apron is a trek worth taking.
Superior, July 8, 2012, Image 12-1269
Looking in from Lake Superior, the BN-SF dock sits just inside the Superior entry.
In the "old days" a coal dock for bunkering vessels loading ore was located here.
Superior, July 8, 2012, Image 12-1154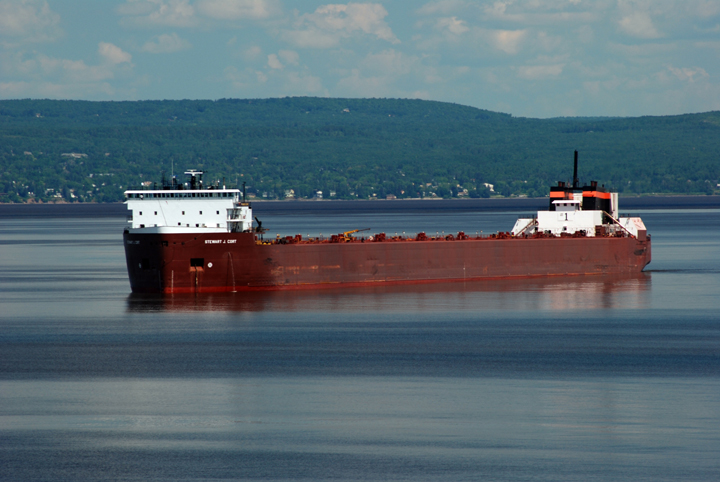 One of the more unique vessels on the Great Lakes, the
Stewart J. Cort
waits for its turn to load.
In 1971, once all of its disparate pieces were fully assembled the
Cort
became the Lakes first 1000-footer.
Superior, July 8, 2012, Image 12-1291